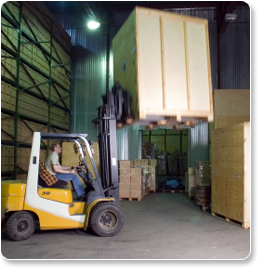 Utah Inventory Management Company
If your business does not have the staff, equipment or space to manage inventory effectively, it is best to trust this process to an inventory management provider with an efficient and proven system in place for the complex task. For more than 100 years, Redman has been the provider of Utah inventory management services that free up your time, personnel and space by handling the receipt and delivery of your goods.
Inventory Management Services
Our inventory management system allows for the effective retrieval of your goods when an order is placed. You will pass down the order; we will locate and pull the product, then prepare and ship the said goods to the recipient. We have barcode inventory control that is managed online to expedite this process. You will receive detailed reports outlining this process, so you will always be up-to-date on the status of your inventory in our warehouse. Our inventory management process is refined, ensuring the success of our system for each and every client.
Our Utah inventory management services are organized and efficient within our spacious warehouses. We have a precise inventory management system to ensure the proper handling of your goods. At Redman Van & Storage, your goods will be barcoded and inventoried, available for retrieval at your demand. Our Utah inventory management services are streamlined to handle the flow of your products.
Our warehouses are secure, equipped with fire and theft protection systems, bonded and military approved. We have the space for large amounts of inventory and the steel racking necessary for unique products. Our inventory management software allows us to track all goods in and out of our facilities. Specialized reports and inventory control needs are customized to meet the demands of your business and your specifications. With Utah inventory management services that are this competent and organized, Redman Van & Storage is clearly the choice company to manage your inventory.