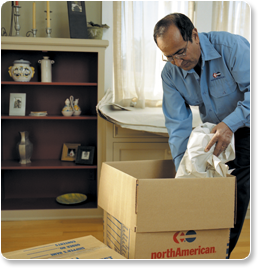 Utah Moving and Storage Services
As a moving and storage company for more than 100 years, we at Redman Van & Storage know precisely how to manage a successful residential move. Our Utah moving services are designed to cater to our customers' needs when transporting their household goods for local, long distance and international moves. In addition to our wide range of moving services, we also provide cost-efficient Utah storage services to our residential moving customers.
Moving and Storage in Utah: Services
At Redman, we take every aspect of residential moving into consideration when developing our customers' personalized move plans. Our Utah moving services include many packing options, ranging from full-service, expert packing and fragile-only packing to packing materials sales. We provide unpacking and debris removal services, in addition to many third-party services. Our third-party services include assembly/disassembly of large appliances, pool tables, swing sets, etc., and disconnect/reconnect of washers and dryers, ice machines, etc.
For interstate and long-distance moves, we offer auto, boat and motorcycle shipping services. No matter where you are going, we can get your mode of transportation there in addition to your household goods. Redman also offers the convenience of online shipment tracking for goods during long distance or international transit.
We have affordable Utah storage services should you be in need of extra space during a move. Our Utah storage facilities are located throughout the state as a convenience to our customers. We provide containerized storage so your belongings will remain secure and undamaged while in our warehouses. Our monthly rates for storage are affordable, and we offer both short-term and long-term storage options.
Redman for Moving and Storage in Utah
The Utah moving services we offer, in conjunction with our Utah storage services, ensure that your residential move will be personalized to fit your needs. Whatever kind of services you need for your upcoming residential move – from expert packing to auto shipping – we can deliver the solutions. At Redman, we are the official residential moving experts.